Our PHILOSOPHY
Children have a natural curiosity about them and MidCoast Munchkins philosophy helps support every child as an individual. It is their innocence and curiosity that drives MCM, guiding these children in and out of the classroom. Our passion comes from the heart and our goal is to guide the children to be kind, loving, caring human beings of this earth. MCM's goal is to help develop their self-esteem, sense of purpose and ability to overcome difficulties. They will learn how to be contributing members of our society which will hopefully stay with them as they continue on this journey we call life.
MidCoast Munchkins biggest value in education is having real-life experiences. One of the best ways to experience real life is through play. Play can look different in everyone's eyes but for us, play is when children are free. Free to create, free to explore, free to discover, free to imagine, and free to choose. Similar to a Montessori style, where the child can lead their own path in learning, we like to let them follow their own passion. They can learn how to coexist and socialize with others through the freedom of role play. The children see interactions going on around them all the time. Through role-play, they can take what they learned and try to apply then in their play.
This doesn't mean that it is a free-for-all in my classroom because MCM feels strongly that consistency and structure are required for their development. By following the same schedule such as drop off/pick up time, mealtimes, and quiet time allows a child to know what to expect. Giving each child the time and space to accomplish a goal is how they are going to succeed in life. To learn to do things for themselves from the simplest task to a more complex one. By guiding a child to do things on their own teaches them to set goals and let them know it's OK to fail. Just as long as we keep trying and don't give up we will get that feeling of accomplishment and feel the pride that comes with it.
Lastly, MCM goal is to create an environment to empower each and every child to reach their fullest potential, to harness their creativity and independence. To show their true kindness. To provide the tools that allow each child to be a critical thinker. We strive to be a role model to the children, to show them how to care and love themselves and others. To model how to be a contributing member to society and work together as a whole. Above all, I will show each child respect because every child deserves a fair opportunity.
How We got here
Develop Your Path to Greatness
Born in 1985 into a large and loving family, Daniela lived in Plattsburgh, New York until 2005 when she moved to Lake Tahoe. After almost 10 years of experience and graduating with her Associate's Degree in Early Childhood Education she opened up her first daycare, Mountain Munchkins. It was Lake Tahoe's leading daycare spot to bring children for 9 wonderful years. Many families stayed there for years seeing multiple children from the same family go through the program.
But after Daniela and her husband had their second child they decided to close the doors to Mountain Munchkins in Tahoe and move their children back east to be closer to family. Which is how MidCoast Munchkins emerged. The doors could never stay shut for long so they are bringing that same program, with a few new twists, here in MidCoast Maine.
Rick McDuffie
Daniela and Rick have been happily married since 2011 and both have huge hearts. For the last 20 years, Rick has spent the winter months ski patrolling up at Alpine Meadows and in the summer he is, Captain Rick, cruising around on the waters. Today Rick is loving his journey as a nursing student at SMCC. Rick plays a big role in the daycare, the kids mostly know him for his musical skills and his silly dad jokes!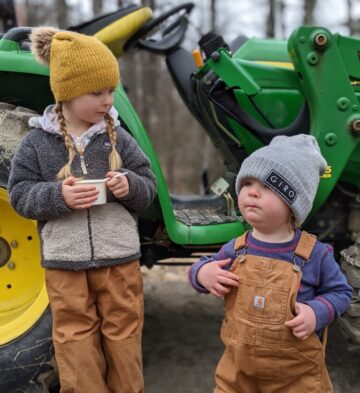 Mayla & Jack Mcduffie
Mayla and Jack are the big reason MCM is starting up. To be able to offer them the care and opportunity that so many children had before them is such a beautiful thing. It is this generation that will take this world and make the most of it.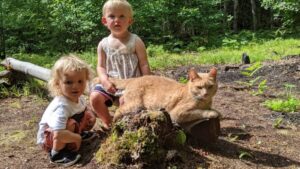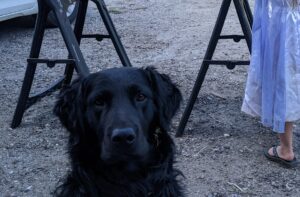 ---
The Pets
4 year old golden/lab mix, Dinosaur.
8 year old cat, Pete.
Chickens will be joining our family soon.
All the fur babes are gentle and loving and always up for a cuddle.